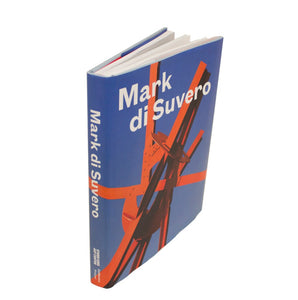 Mark di Suvero: Monograph
Member Price: $67.50     Join now
Please enter your Member promo code in checkout to receive your 10% discount.
Storm King Art Center in collaboration with Prestel has published a Mark di Suvero monograph.
The book has been issued by DelMonico Books, a boutique imprint by Prestel, which is the art, architecture and design arm of Random House publishing. The book was edited by Storm King's Director and Chief Curator David R. Collens, its Curator Nora R. Lawrence, who has authored an original essay for the volume, and its Curatorial Assistant Theresa Choi. Additional contributions came from the artist Mark di Suvero himself; Patricia C. Phillips, an independent writer and curator and Dean of Graduate Studies at the Rhode Island School of Design; Nancy Princenthal, a former senior editor at Art in America, who has been writing about contemporary art for more than twenty-five years; and artist Ursula von Rydingsvard, an award-winning, New York-based artist who is internationally renowned for her monumental sculptures.
This first comprehensive monograph of the acclaimed sculptor Mark di Suvero looks closely at the unique physicality of his work – both in process and product, and examines di Suvero's contributions to art and social change within their historical context. Mark di Suvero has become one of the most important artists to emerge out of the 1960s, with works exhibited at the world's most renowned museums and sculpture parks. The book draws on unprecedented access to the artist's studio, archives, records, and historical photographs. 
Hardcover, 240 pages
125 color illustrations, 25 b/w illustrations
ISBN number (978-3-7913-5436-1)