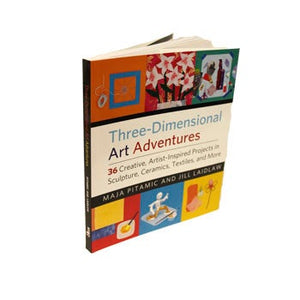 Three-Dimensional Art Adventures
Member Price: $18.00     Join now
Please enter your Member promo code in checkout to receive your 10% discount.
Three-Dimensional Art Adventures: 36 Creative, Artist-Inspired Projects in Sculpture, Ceramics, Textiles, and More

Three-dimensional art is bold, tactile, and fun—in other words, perfect for children who love to get their hands dirty. Three-Dimensional Art Adventures introduces young artists to groundbreaking masterpieces and fresh techniques, then lets them loose. Each chapter covers a movement or category of three-dimensional art: Early Sculpture, Modern Sculpture, Installation, Ceramics, Collage, and Textiles. Projects begin with a story of a famous work—Louise Bourgeois's Maman, Claes Oldenburg's Trowel, Ai Weiwei's Forever Bicycles—followed by a question-and-answer section. Then it's time to hit the brushes, or charcoal, or scissors. The projects cover a wide range of media, from themed collages to clay sculptures to Cubist-inspired tapestries, with a variety of difficulty levels, always encouraging and expanding the child's natural creative abilities. 
Age Range: 6 and up
Grade Level: 1 and up
Paperback: 144 pages